2019 Ford Edge– Edgier? Does Ford need an Edge, when it has an Explorer? Yes, it does. It needs an Edge, and it needs a Flex too. Despite occupying the same segment, each one tries to tell a different story. Despite the fact that Edge's sales figures are around a half of Explorer's ones, they are still decent and much above marginalized Flex. And by the way, Ford is not only brainier in the segment. Hyundai also offers smaller and just a bit funkier Sport model. Still, unlike Santa Fe Sport, Edge is a lot fancier than its rugged and boxy sibling and imagining the same person attracted by both is hard. And it has big guts.
2019 FORD EDGE – COURAGEOUS ENOUGH FOR EUROPE
Yes, Edge had the boldness to invade Europe. Old continent is very harsh toward mid-size crossovers missing luxury badges, and the offer was reduced by the time to Korean duo and Jeep's Grand Cherokee. Till today, Nissan was the last in abandoning the ship when it introduced current Pathfinder, while Europe's beloved VW only offers Atlas in America. So, Edge needs all the stuff it can get to make an impact, and one of those could be upcoming refresh in the form of 2019 Ford Edge.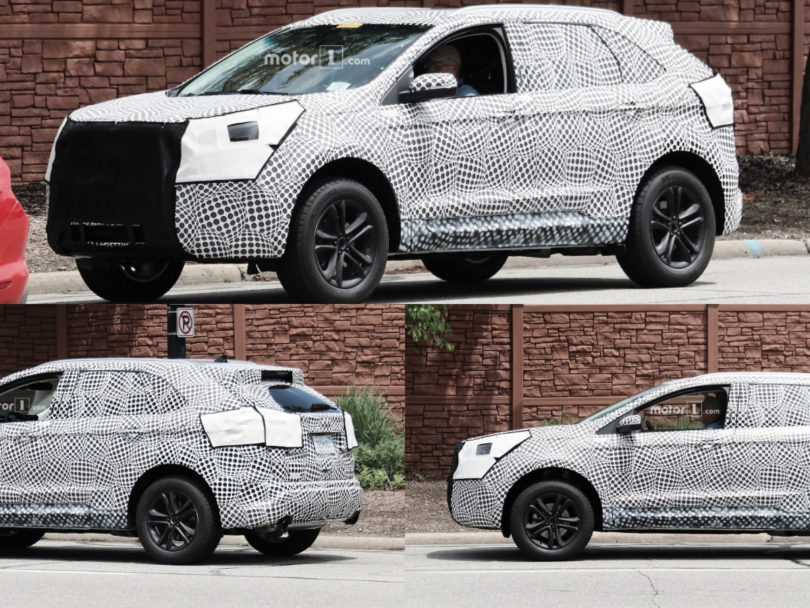 JUST NIP AND TUCK OR A BIT MORE?
Damn! Ford is getting good in masking those test mules. Still, visibly extra use of cover on certain places shows us where to expect some changes. But first, we are anticipating only refresh here, so shape and side profile naturally remain the same. Now, if we further take a look how meticulously lights (front and rear), along with grille are covered, we are grasping with the notion what is coming our way. The different interior layout is the least Ford can do for the lights, but we sense a bit more here. Maybe sharper approach or increased funkiness is on the menu, much needed for that Europe endeavor. We would love to dwell further, but just take a look those spy shots! They just refuse to reveal.
INTERIOR
We wouldn't get hopes high with this refresh and interior happenings. Probably nothing will change visually although some other improvements might brighten the picture. Edge already got its boost in technology last year when Sync3 version for infotainment system was introduced supporting Apple CarPlay and Android Auto. Mentioned version represents a great improvement, and it is quite pleasant to use on available 8-inch screen. Ford could utilize upcoming refresh as a chance to reevaluate interior build quality, which is far from perfect. In fact, it's quite the opposite.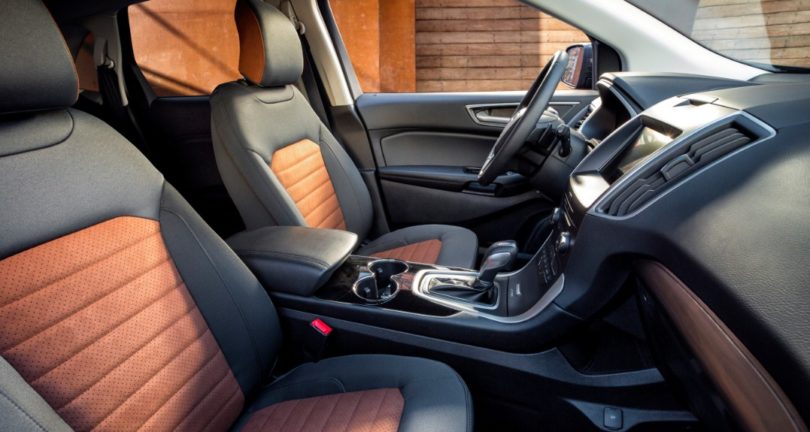 MORE SPEEDS
Some changes are certain, for which we don't have to guess about. Blue Oval developed new 9-speed automatic set to replace old 6-speed one in FWD vehicles, while available AWD doesn't hinder that. And that includes our 2019 Ford Edge. New shifter will boost fuel efficiency, while it might also affect acceleration times, in a positive manner that is. On the other hand, engines are destined for carrying over. You will still have a choice of turbocharged 2.0-liter L4 with 245 hp or naturally aspirated 3.5-liter V6 producing 280 hp. Sport model will also follow through with feisty 2.7-liter twin-turbo V6 delivering 315 hp, along with being covered with fancy makeup.
2019 FORD EDGE RELEASE DATE AND PRICE
2019 Ford Edge could debut maybe even this year, if not Detroit and beginning of next one are certain. Refresh shouldn't change the pricing enough to get us worried, so the scale of $29,800 – $41,800 is probably destined for preservation, on our delight.
Ford Edge Gallery