UPDATE: Apr 28, 2017 / After many rumors about it, the 2018 Jeep Grand Cherokee Trackhawk update has been revealed. The SUV is just as impressive as everyone thought it is going to be. It boasts more power than the rumors said it would, and it happens to be one of the fastest SUVs in the World.
2018 Jeep Grand Cherokee Trackhawk Price and Release Date
The Trackhawk is not currently available for sale, but it seems it will hit the showrooms later this summer. Just like with pretty much all the other Hellcat cars, the price is more than likely going to be bumped up by dealers. Most of us expect the SUV to hit the market for an MSRP of just over $80,000, but it is safe to assume the early models might sell for north of $100,000. One of the largest challenges with this model has been the running gear. In order to make it withstand that much power and torque, the engineers had to rework most of the drivetrain. The Trackhawk gets a beefed up eight-speed transmission, new transfer case, driveshaft, and half-shafts as well as new springs all around. The Bilstein adjustable shocks have been revised as well, and the brakes have been completely replaced. It now gets large two-piece aluminum rotors clamped by 6-piston calipers from Brembo. The result is an SUV that stops just as good as the 300 pounds lighter SRT. On top of that, it also handles better thanks to the new springs and shocks.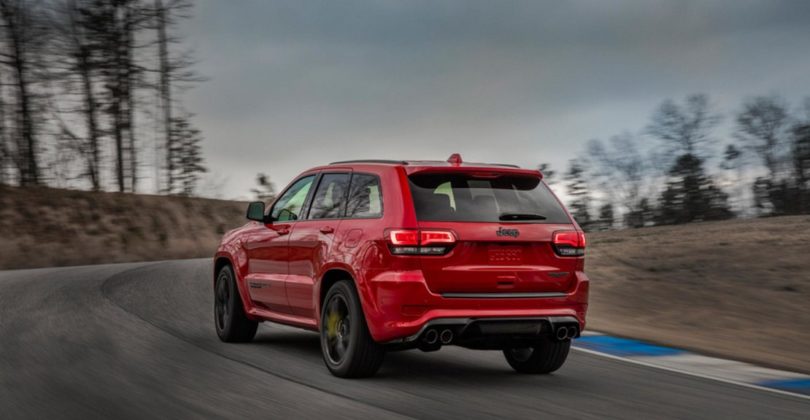 Exterior and Interior
On the outside, the new Trackhawk received quite a bit of attention. It gets brand new front, and rear bumpers, a large carbon fiber diffuser in the back as well as a new grille and a new set of intakes under the grille meant to better cool the intercooler. Inside the cabin, the Trackhawk is pretty much fully loaded. It gets leather-upholstered sports seats, a premium audio system, the 8.4-inch infotainment system as well as a new instrument cluster with a 200 MPH speedometer.
Performance
The new instrument cluster is actually needed because the 2018 Jeep Grand Cherokee Trackhawk is capable of hitting 180 MPH. This is faster than most other cars on the road. On top of that, it will sprint from a standing start to 60 MPH in just 3.5 seconds, and it will do the quarter mile in 11.6 seconds at 116 MPH. This is all possible thanks to its engine. It boasts a 6.2 liter supercharged V8 that provides 707 horsepower and 645 lb-ft of torque. This is basically the same as the one in the Hellcat with the only difference being the exhaust. The power is then sent to all four wheels via an eight-speed automatic gearbox. A manual is unfortunately not available with this package.
UPDATE: What was long rumored is now confirmed. Jeep CEO Mike Manley has confirmed that the American car giant is planning on putting Hellcat engine in the Grand Cherokee. After many spy photos of which some were showing a completely naked Grand Cherokee that we presumed is 2018 Jeep Grand Cherokee Trackhawk now we have an interesting video. This video clip is actually pretty long for spy videos standard and gave us a very good look at the testing mule.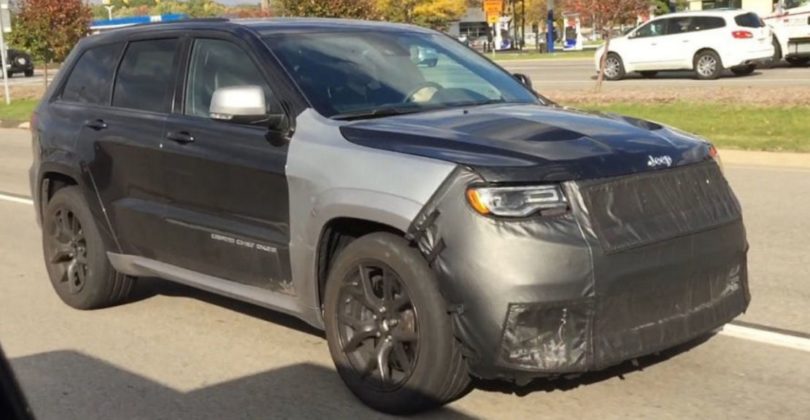 Unlike the previous spotting of Trackhawk that were showing us naked photos, this tester model was once again camouflaged. The only part of the car that was in disguise was the front end, so we thought that their intention is to hide front fascia look that will be different than on standard Grand Cherokee if you intend to put a Hellcat powertrain in it. Also if you take a look at the wheels you will notice breaking system that looks like the one being used on each and every Hellcat model. In addition, the guys who filmed this notice that engine sounds like it's supercharged. This can't be confirmed at this moment but we all are hoping that what it has under the hood is 6.2-Liter V8 with 707hp. With the engine like that, it could easily reach 0-60 in 3.5 seconds. This kind of performance would make it a worthy rival to Cayenne Turbo S.
Oct 25, 2016 Review / Only a few vehicles in the auto industry have enjoyed such fame as Jeep Grand Cherokee has. The word is out that FCA(Ford/Chrysler) wants to continue the production of the vehicles previously labeled with SRT tag, but the rights to that tag now belong to Dodge, which is why a new Trackhawk line is being introduced. Another curiosity related to the upcoming release of the FCA's SUV is that it will come with a hellcat engine, which promises sheer power. Regarding the fact that this car was designed for rough terrains, owners of the new 2018 Jeep Grand Cherokee Trackhawk will need all the strength they can get out of this promising automobile.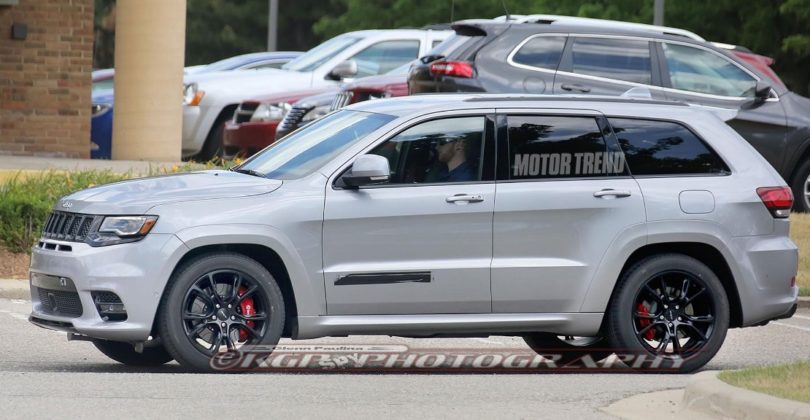 Engine
All signs point towards the fact that the upcoming Trackhwak will be available with several trim levels. The base model will feature a 6.4-liter V8 engine and has a solid 475 horsepower. It can develop the maximum speed of 160 mph. However, the fact that 2018 Jeep Grand Cherokee Trackhawk will be available with Supercharged Hellcat engine got more attention from the automobile community. Its specifications are magnificent and it posses 6.2 liter V8 with a capacity to develop up to 707 horsepower and 650 of torque.
The maximum speed it can develop is 200 mph, and it can go from 0 to 60 mph in approximately 4 seconds. The new Jeep Grand Cherokee will come with ZF 8-speed automatic speed transmission, and it is unknown whether or not the model with a manual transmission will be available. All of these specifications show that the new FCA's SUV is going to be among the most powerful vehicles on the market, and that will be equally efficient on and off the road.
Design
As it is often the case with the upcoming vehicles, there are many different and often contradictory information surrounding them prior to their release. 2018 Jeep Grand Cherokee Trackhawk is no exception since much information about this SUV hasn't been confirmed yet. What can be said with certainty is that its body will be constructed from light materials. The front of the vehicle will feature elegantly designed LED and fog lights, which will make driving much easier in different kinds of weather conditions. The overall impression the upcoming Jeep Grand Cherokee gives is aggressive and sporty, but with a nice touch style and elegance.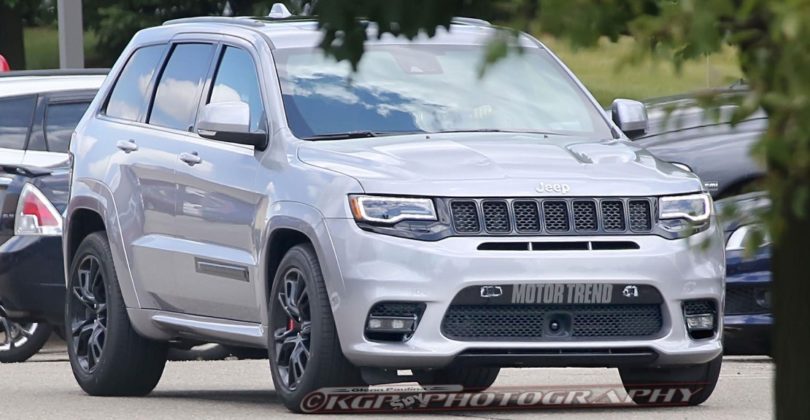 The car's interior can be expected to be comfortable and spacious with more than enough room for luggage and cargo.The SUV will be equipped with modern tech features such as a touchscreen, Bluetooth, WiFi and other commodities which will make driving in this car a pleasurable experience. Jeep Grand Cherokee Trackhawk 2018 will be in the company of auto industry's most prestigious automobiles such as Porsche Cayenne Turbo S or BMX X5 M once it becomes available for sales.
The date when 2018 Jeep Grand Cherokee Trackhawk will be available on the market isn't set yet, and more information will become available as 2016 signs of progress. Several different sources have stated that it is within reason to expect that this much-praised SUV will be presented during the first few months of 2017. This estimation might prove to be wrong if FCA's team face any further difficulties in the process of releasing the new Trackhawk. We believe that everything will go according to plan because more and more Trachawks without camouflage are being spotted which is a clear signal that car is in a final development stage.
There are many unknowns surrounding the price of this vehicle. Almost all projections place it within a price range between 65.000$ and 70.000$. If these are true, the new Jeep Grand Cherokee will be more affordable than most SUV's in its class.
More Details on Wikipedia.org
2018 Jeep Grand Cherokee Trackhawk