2017 Tesla pickup Truck UPDATE Apr 24, 2017 / There is no question about the fact Tesla is the largest electric car manufacturer. On top of that, not that long ago they became the most valuable US manufacturer which is not an easy feat to achieve. This was mostly thanks to the fact their Model 3 received more than 400,000 deposits in the first year without even being released. This proved that people are keen to get electric cars so in order to satisfy their need, not that long ago Elon announced that he also plans a truck. The future Tesla Pickup Truck will more than likely be released by 2023 and it will be based on a new chassis altogether.
Release Date and Price
Not that long ago a Tesla Pickup truck update has been released which includes design sketches as well as some interesting details about it. For starters, this is going to be a full size half a ton truck and not a medium sized one. However, it will be based on a unibody chassis, and it will come with plenty of upgrades over its competitors. As we said, it is expected to hit the market close to 2023, and it is expected to cost north of $70,000. Even if it may seem expensive, the truck will be considerably more efficient than a regular gas-powered model.
Design – Inside and Out
The front of Tesla's pickup truck is more than likely going to follow their corporate look closely. However, this is where the similarities will end. It will boast an integrated bed, similar to what Honda has been doing lately. This will allow them to expand the bed if needed and it will give them more features as standard. Things like 110V and 240V sockets, drawers for tools as well as a full-size trunk in the bed's floor are possible. On top of that, in the front trunk, the Tesla Pickup could easily store tools and provide charging spots for them. The cabin is likely going to be as minimalist as it gets but the materials will definitely be more durable than those found in their cars.
What Will Power It?
The Tesla Pickup truck update revealed that the model might boast more than 900 lb-ft of torque and more than 500 horsepower. It is a well-known fact that Tesla's current electric motors can easily churn that much. The truck is expected to get a 120 to 160 kWh battery pack which should allow it to travel more than 500 miles on a single charge when empty and more than 250 miles when loaded. This is still very good considering a regular gas-powered truck achieves roughly the same numbers with a considerably higher fuel consumption.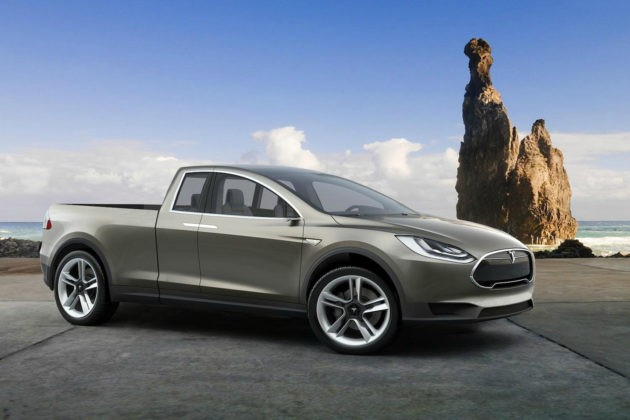 UPDATE: Jun 11, 2016 / In what is now regarded as official Tesla announcement, Elon Musk wrote a 1500 word blog post which already could be considered a game changer. What was said in this blog is: Tesla motors are planning on expanding their range of vehicles. Segments of car market that they are planning on entering are as following: SUV segment, pickup trucks segment (2017 Tesla Pickup Truck is coming), and later in time the heavy duty truck and bus segment. All of this is something that has been told thousand of times since 2013 trough various rumors but now has finally got official confirmation. The only thing remaining now is to see where are all of this vehicles are going to fit in the already overcrowded market, and how will Elon Musk handle financing and delivering of these models. Considering that Tesla in financed trough investments and not through earnings, and that they are already late on a schedule of delivering tesla Model 3 to buyers, lot's of people are eagerly expecting to see how are Tesla and Elon Musk respectably going to handle all of this.
In January rumors started about a truck made by Tesla. While this would seem very odd at first, let's not forget that the three best-selling cars in the United States are trucks and that Tesla's technology would make a lot of sense. Well, back in March, Elon Musk said that a 2017 Tesla Pickup Truck would be a real possibility for them and even though there are no current plans for making one, a Tesla truck would be a really interesting car.
This has been later discussed by auto journalists and it seems that Tesla would easily be able to take a lot of the market for themselves, especially since an electric truck would use a lot less energy than a conventional model and its electric motors would easily be able to pull more than a regular petrol or diesel version.
2017 Tesla pickup Truck Release Date and Price
Our best bet would be that they would release the 2017 Tesla Pickup Truck as a concept in order to see people's reactions and if it will be successful, which it will most likely will, the Tesla will proceed forward with developing it and they would likely be able to release it by 2023 when most other manufacturers will likely offer hybrid trucks that will directly compete with it. The price is still an unknown factor at this point but like they did with the Model S, they will most likely offer the truck at a much lower price than the competition, most likely around $40,000, a price at which it should have no match.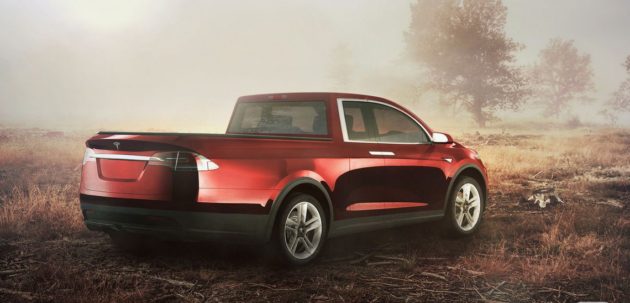 Like with their other models, the 2017 Tesla Pickup Truck is very likely going to be a rather minimalist track both in terms of exterior and interior design. This should appeal to a very large market because many people are looking for functionality rather than design and Tesla will easily be able to deliver.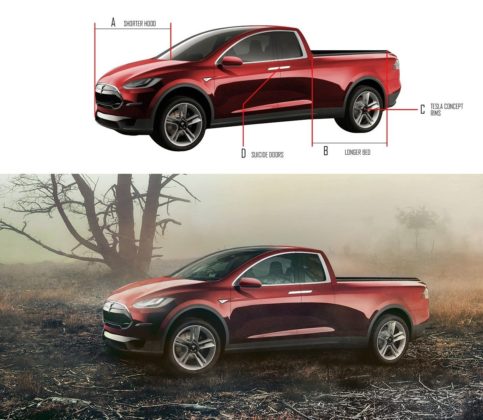 One of the largest selling points for the truck would be the fact that it will offer both a trunk which will allow the driver to store tools, valuables, and other items while the bed would be used just for carrying stuff around. Also, unlike a conventional truck which needs a large front engine and a large fuel tank, the Tesla truck will likely get a long but slim battery pack mounted in its floor and very compact engines, either in the back or the front and at the back. These will take little to no space at all so the bed, as well as the cabin, will definitely be bigger than on its competitors.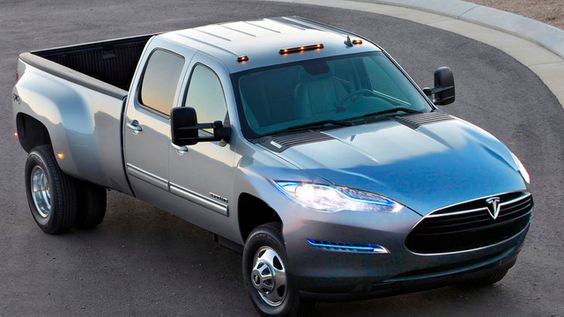 The modular design of the Tesla truck will also mean that it should be quite simple for them to offer two and four door cabs as well as different bed lengths without that many issues. While it will be a Tesla Pickup Truck, its interior will likely be similar to that of the lowest end Model E in order to save as much money as possible but the materials inside and out should be on par with the other models in the range.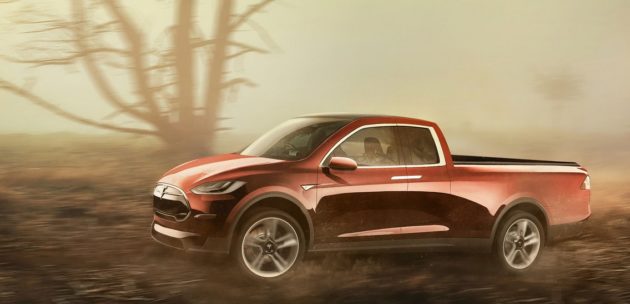 One of the largest problems people are going to have with the Tesla Pickup Truck is going to be the available range but this shouldn't really be an issues because the longer truck will have more room for batteries, so, in theory, it should easily be able to provide more than 200 miles of range even when towing large loads.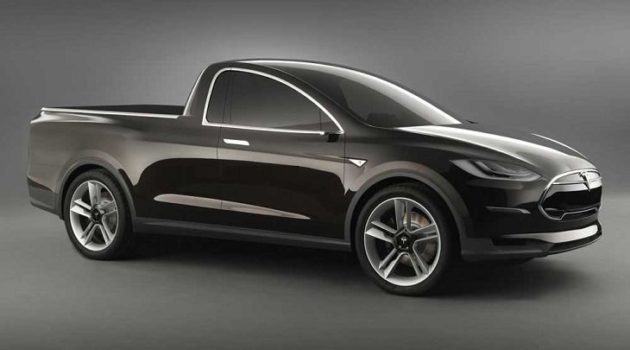 On top of that, it would be a great truck for large fleets because Tesla will likely offer great Super Charger packages with many bought trucks, so while the recharge time will be around 30 minutes, thanks to the fact companies will have a free energy supply should drop the costs on the long term tremendously which will be the main selling point for the Tesla truck.
Rendering by Tobias Büttner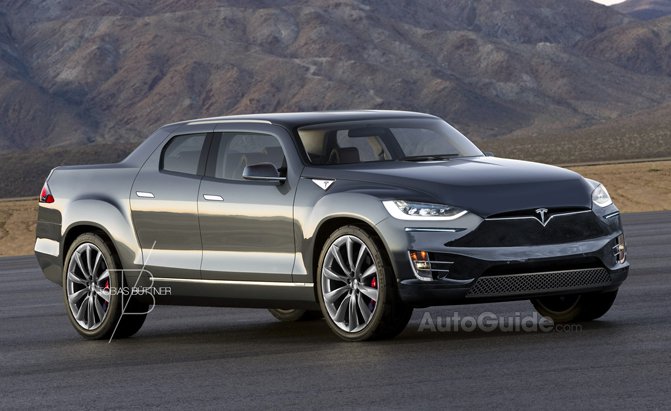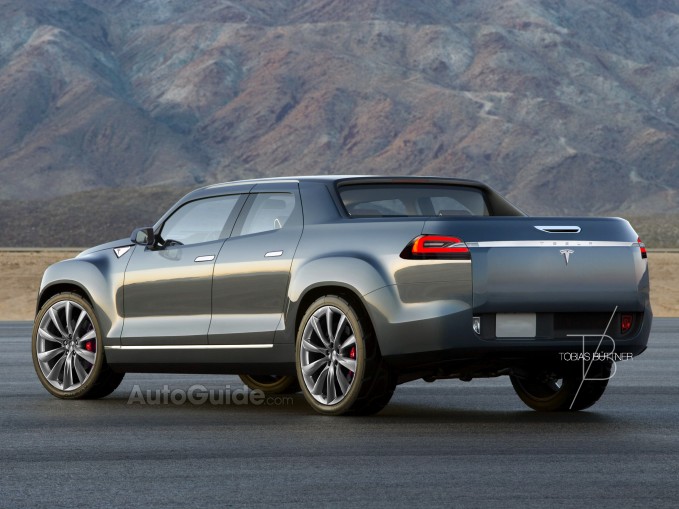 Tesla info: Wikipedia.org
Tesla News Video
2017 Tesla Pickup Truck
Summary
The price is still an unknown factor at this point but like they did with the Model S, they will most likely offer the truck at a much lower price than the competition, most likely around $40,000, a price at which it should have no match.
Price: $40,000