Not too long ago Hyundai released a really interesting concept truck which managed to define a completely new segment. They said that their new truck was meant for people that never really owned or needed a truck but need the space and carrying capacity of an open space vehicle. The end result was the 2019 Hyundai Santa Cruz crossover truck concept which combines the usual truck looks with the chassis of a sedan and the interior space and likely the engine of a crossover. While these have already been applied previously to the Honda Ridgeline, that was meant to compete with all those compact trucks out there so it really didn't manage to sell that well.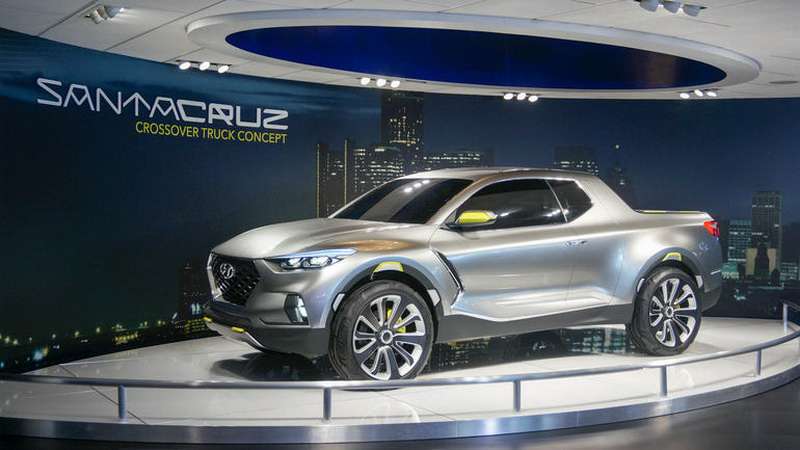 2019 HYUNDAI SANTA CRUZ RELEASE DATE AND PRICE
The Hyundai version is meant to compete on an entirely new market segment and while at first, we thought that it would never really see the light of day, it now seems that this truck-crossover combination might get into production sometime in the near future, most likely by the end of 2018, like 2019 MY.
The price would have to be around $30,000 in order to be successful and while it may seem like a large sum of money for a truck that doesn't even use a dedicated chassis, the Santa Cruz would be offering a much better interior than your usual truck as well as a much more frugal engine that will certainly appeal to those people looking for the bed of a truck without the dreadful fuel consumption or the massive price of a diesel version.
ENGINE
The most interesting fact about the 2019 Hyundai Santa Cruz crossover truck concept is that Hyundai said that besides the diesel version showcased at the Auto Show, another option was also in the works. This is interesting because concept cars never come with engine choices which really means that they are really thinking to put it into production. While the diesel is unlikely going to be offered on the US market anytime soon, the car will very likely come with two petrol offerings as standard with a possible diesel version coming sometime in 2023 or 2023.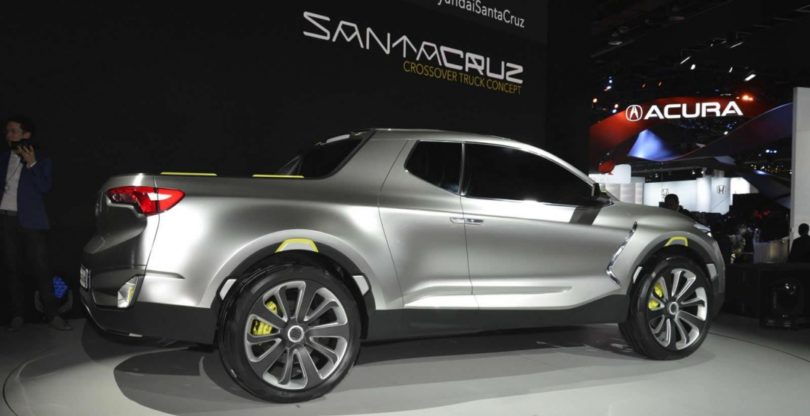 The base model of the truck is expected to use a tiny 1.6 liter turbocharged inline 4 petrol engine which could make up to 200 horsepower and 190 lb-ft of torque, more than enough for the urban family. Further up the range, a 2-liter turbocharged petrol engine with more than 250 horsepower might become available which will make the Santa Cruz a really interesting car. All wheel drive should be available as an option with all engines while an automatic transmission will be available even on the base trim level.
INTERIOR AND EXTERIOR
Design-wise, the car is really interesting, to say the least. While it does look like a truck with a rear bed and a high stance, it also takes inspiration from Hyundai's crossover and hot hatchbacks so it really offers something different with flared wheel arches, large alloy wheels wrapped in high-performance street tires and a really aggressive design scheme. The front end gets four individual LED clusters, a large hexagonal honeycomb grille, and a really sleek bumper, the cabin is using large coupe-like doors and smaller rear "suicide" doors while the bed is nicely integrated into the design.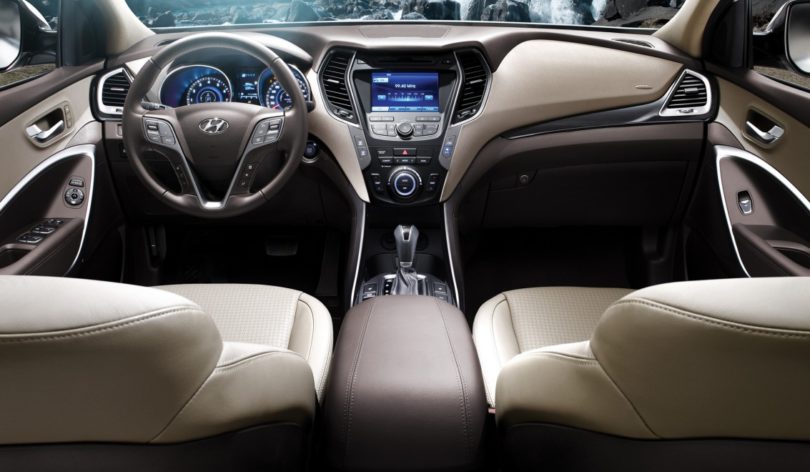 The production model will likely only feature normal doors as well as a slightly more toned down look but the general idea is most definitely going to be kept. The interior of the 2019 Hyundai Santa Cruz crossover truck concept, on the other hand, will most likely not be used on the production model. Instead, we expect a fresh and young-looking interior that will be aimed mostly at the younger generation of buyers with a lot of entertainment features and easy to clean materials.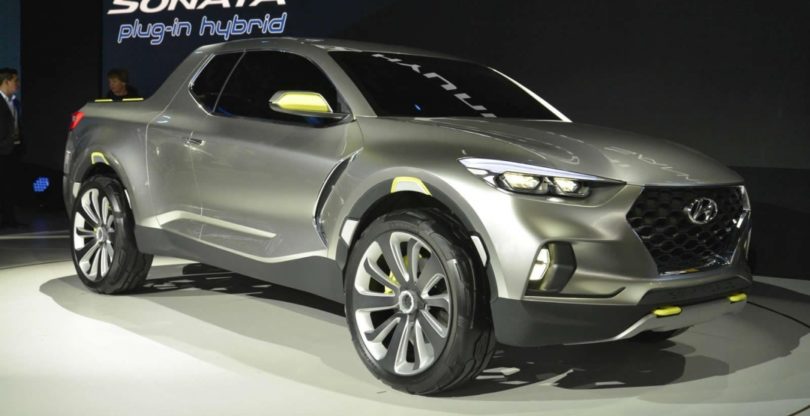 More info on Wikipedia.org