2018 Ram 2500 Update, May 07, 2017 / Ram's heavy duty line of pickup trucks will likely not receive the huge makeover most of us were expecting. So far it looks like Ram is focusing on their full-size half-a-ton 1500 and not on the larger models. This might be the correct move, especially since their new trucks will boast quite a few improvements over their older models.
News and Design
Not that long ago the 2018 Ram 2500 has been spied wearing not much camouflage. The interesting part is that the truck was basically the same as the 2015 version. The only real change was in the front where the 2018 model seemed to boast a different grille and possibly LED headlights. Besides these minimal changes, most of it will remain roughly the same as before which is a real shame. Unfortunately not much will change with the exterior. On top of the new grille and headlights, the truck could also get a new tailgate. This is likely going to boast Ram's latest in terms of tailgate-step which would make it easier to live with.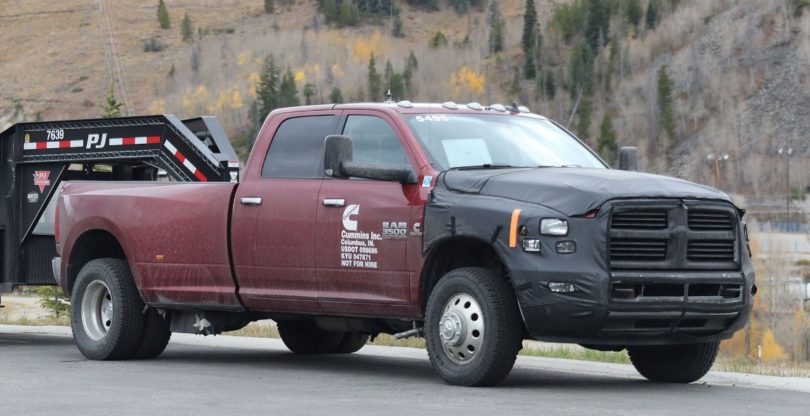 Under the Hood
While the truck won't be all new, it seems like the engines will be heavily improved over those in its predecessor. For starters, both the 5.7 and 6.4 liters naturally aspirated V8 HEMI gas engines will be carried over to the 2018 model. These two are among the most reliable engines in their class which is not an easy feat to achieve. The update might offer closer to 400 horsepower and 410 lb-ft of torque with the 5.7 liter V8. The larger 6.4-liter version is expected to make north of 410 horsepower and 430 lb-ft of torque. The power bump won't affect the fuel economy of the new truck which is all that matters. Also, the 6-speed automatic is here to stay which is to be expected. The 6.7 liter inline 6 Cummins diesel is also going to be carried over. Currently, the truck makes 900 lb-ft of torque and 385 horsepower. It seems that the 2018 Ram 2500 might offer 400 horsepower and over 950 lb-ft of torque. Some even suggested up to 1,000 lb-ft of torque but this is a bit of a stretch. Like before, a 6-speed manual will be offered alongside the 6 speed automatic.
2018 Ram 2500 Release date and Price
The 2018 version of the Ram 1500 is more than likely going to be released in showrooms in the upcoming months. The price is highly unlikely going to change much. In fact, the base model will still cost right around $33,500 in order to remain competitive while its special edition Power Wagon is expected to take a small hike to around $54,000.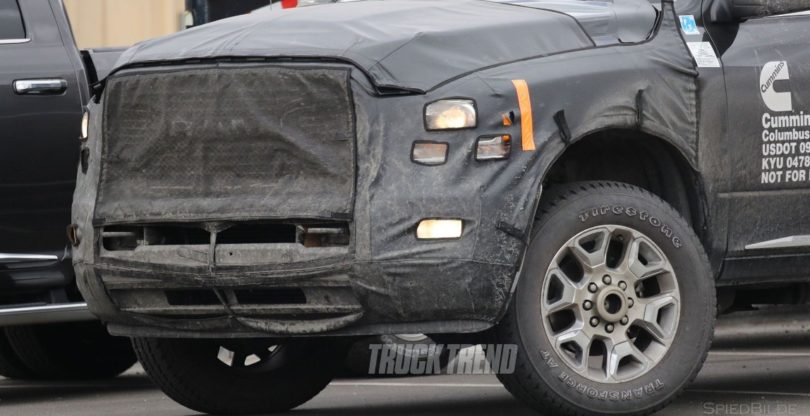 Oct 14, 2016 Review / Ram Truck Division a.k.a. RAM is a division of the Fiat Chrysler Automobiles which manufactures light and mid-weight vehicles. It was founded in 2010 and it sells its vehicles mostly in North and South America and in the Middle East. The division uses the name of the Dodge Ram line of pickup trucks and is focused on, as they say, real truck customers. The company improves their vehicles every year and we already know about some modifications of the 2018 Ram 2500. The release date is still far away and some pieces of this article are based on rumors and speculation. However, we consulted several different sources in order to get the reliable information.
Generally, the new truck will look more aggressive and will be even more powerful than the previous model. The first thing you notice about this truck is that it is muscular. It is huge and there is a large grille placed at the front. There are going to six different trim levels and each of them will have unique and distinctive features. The trims are Laramie, Big Horn, Laramie Longhorn, SLT, Ram Tradesman and Outdoorsman. In this article, we are discussing new Ram 2500 in general and we will not pay attention to distinctive features of the trims. So let's start with the engine and see what is placed under the hood.
Engine
Only a few people dare to talk about engine lineup since there is scarce information about it. According to the unofficial sources, there are going to be at least two powertrains. The base unit is supposed to be a 2.5l eight-cylinder TDI. This engine should be able to generate 240 horsepower and 420 lb-ft of torque. As far as we are concerned this should be enough for a truck this size. However, apart from the 2.5l, the 2018 Ram 2500 will have one more engine option.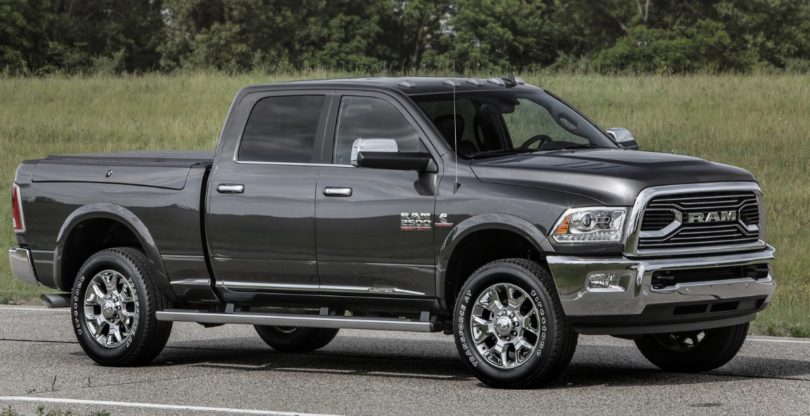 Allegedly, a 5.8l eight-cylinder HEMI should complete the lineup. However, we cannot tell you anything else about this engine since power and torque figures are still a mystery. Both of these engines are expected to be paired with an eight-speed automatic transmission and it appears we won't see manual gearbox this time as well. Maybe they should consider adding a manual transmission because this truck is also sold in the Middle East and South American and they usually don't prefer automatic. You cannot expect from a pickup truck to have a great fuel economy, but they can at least try to decrease fuel consumption. The previous model has EPA rating of 15 mpg and, if they cannot significantly improve engines, they can try to decrease the weight of the truck.
Exterior and Interior
The shape of the truck will remain unchanged. The 2018 Ram 2500 is going to have exactly the same dimensions as its predecessor, but there are going to be several modifications. The headlights are going to be new and in our opinion grille will be slightly redesigned. At this moment we're not sure whether there are going to some changes of the rear part or not. Perhaps only taillights are going to be redesigned. Inside the cabin, new materials will be used for seats. Technology will remain the same. However, there will be some updates in order to keep the pace with the competition. Some of the features are parking sensors, airbags, blind spot monitoring system, stop alert, etc. As you can see almost all new safety features are there. Since there is no huge improvements price shouldn't be changed. Perhaps it will only slightly more expensive than the current model due to the new engine, but don't take this to the bank. According to the various sources, the 2018 Ram 2500 is supposed to come to the market by the end of 2017.